Peter Lovesey Books Newsletter July 2020

'THE GOLD STANDARD FOR UK CRIME WRITING' – Peter Lovesey welcomes you to his new book, The Finisher

We writers constrained by the pandemic still go on publishing our books. The smart guys have invented something known as the virtual book launch, a sort of fanfare for fans that you can hear and see on your laptop.
Fear not. My middle name is Technophobe and I'm the plaything of the gremlins. I couldn't stage a successful virtual book launch if I had the inventor of Zoom sitting here beside me. It would all go laughably wrong. Come to think of it, there's a good short story waiting to be written about a crime committed during a virtual launch, so I may yet need to find out how these things work.
No surprise, then, that what you are getting from me is this: a reminder that my new one called The Finisher is published in the UK on 14 July by Sphere and in the US on 4 August by Soho Press. I'm delighted with both covers: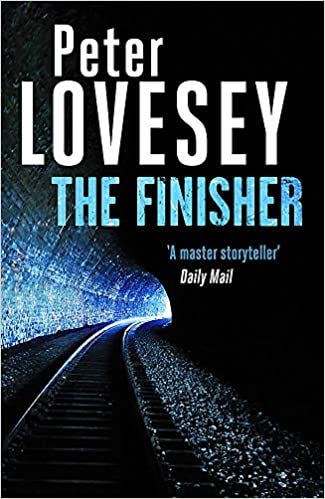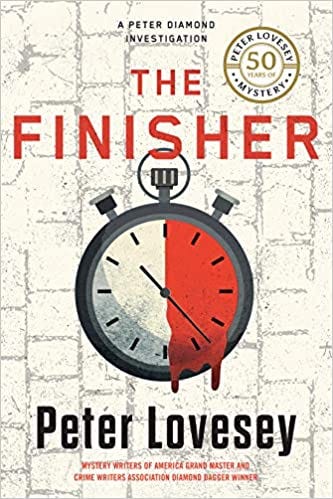 That's the Tunnel of Death on the Sphere cover and a blood-streaked stopwatch on the Soho one. There's a connection. The Finisher is mainly about a half-marathon run over a scary course that includes a mile-long disused railway tunnel through Combe Down, south of Bath. For the first time in one of my books, I've included a map designed by my daughter-in-law Jacqui Lovesey and her daughter Saffron Russell. I'm biased and I think it's gorgeous, so here's a preview.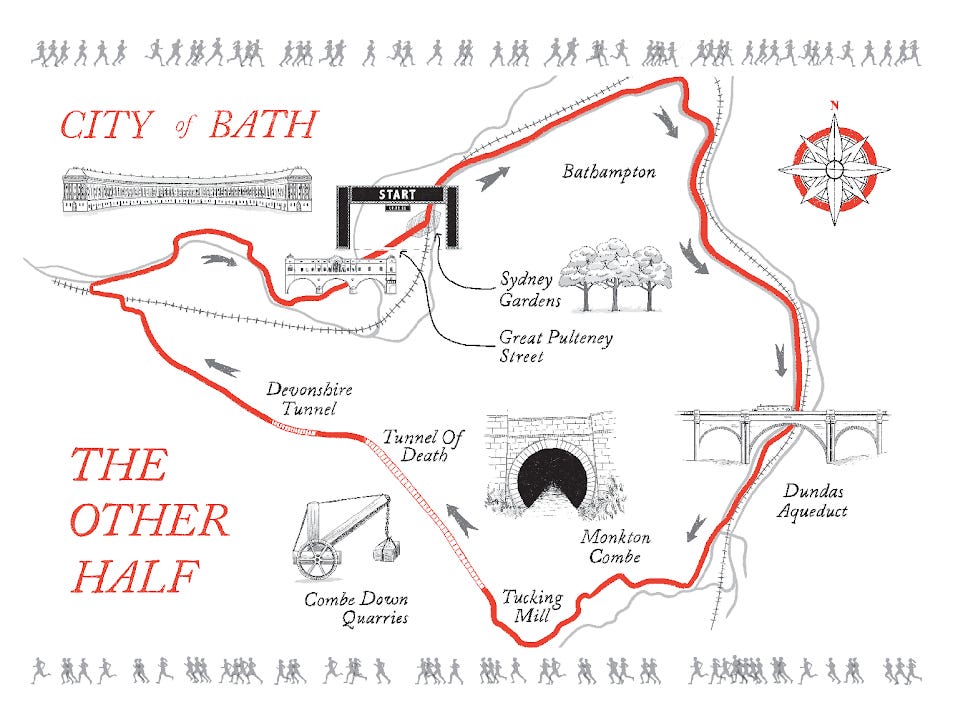 My fictional race is known as the Other Half to distinguish it from the immensely popular Bath Half run each March. The real race took place this year, one of the last mass-participation events held in Britain before the lockdown.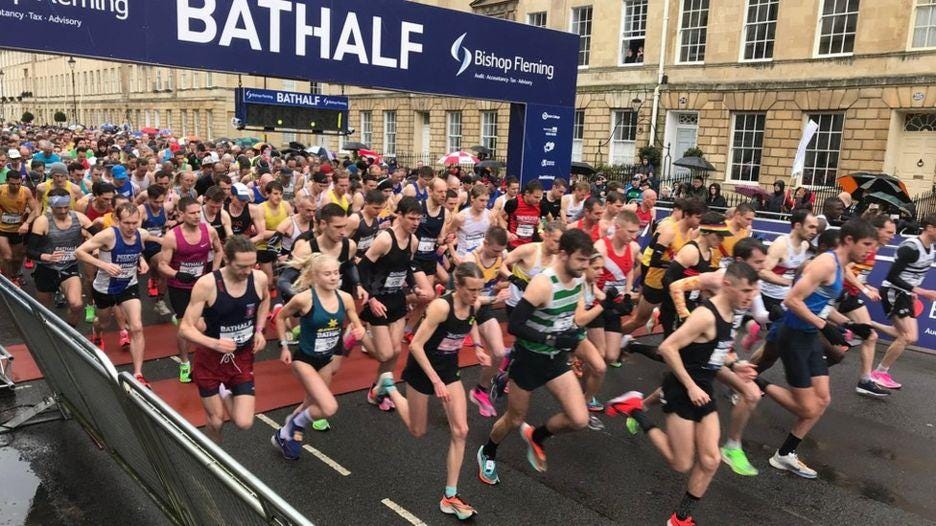 Running a half-marathon is tough enough, but what if one of the starters is known as the Finisher, a killer who finishes people as well as races? That's the set-up. First, you get to know some of the runners and their attendants, Maeve, a teacher who got into the race almost by accident; Trevor, who teaches PE and fancies himself as her coach; Olga, a rich Russian eager to lose weight; Konstantin, her oligarch husband and an elite runner; shy Belinda, an IT specialist who is running to honour the memory of her mother; Tony, ex-prisoner turned personal trainer; Spiro, an Albanian asylum-seeker; and his tall companion Murat, who threatens to be a drag. Who is the Finisher and who will be a victim? The luckless head of Bath CID, Peter Diamond, is put in charge of security and must find out.
Already the pre-publication reviews are rolling in:
'Lovesey brilliantly weaves all these disparate characters and story lines into a wonderfully entertaining and compelling story. His work is the gold standard for UK crime fiction writing.' George Easter in Deadly Pleasures
'A witty, steadily absorbing procedural marked by Lovesey's customary inventiveness and an unguessable solution.' Kirkus Reviews
'I loved this book and hope that Lovesey, who is in his eighties, will just keep on writing. I adored my virtual trip to Bath and the time spent with this book and its characters.' Joyce W Laudon in Joyce's Mystery and Fiction Book Reviews
'Classic mystery and enjoyable characters in a vivid setting . . . Great job, Peters, both of you!' Shannon in Goodreads
'Peter Lovesey has done it again with another great Peter Diamond adventure.' Dawn in Goodreads
For me, The Finisher marks an anniversary. Fifty years ago, in 1970, Wobble to Death, won a £1000 first crime novel contest and launched my crime writing career.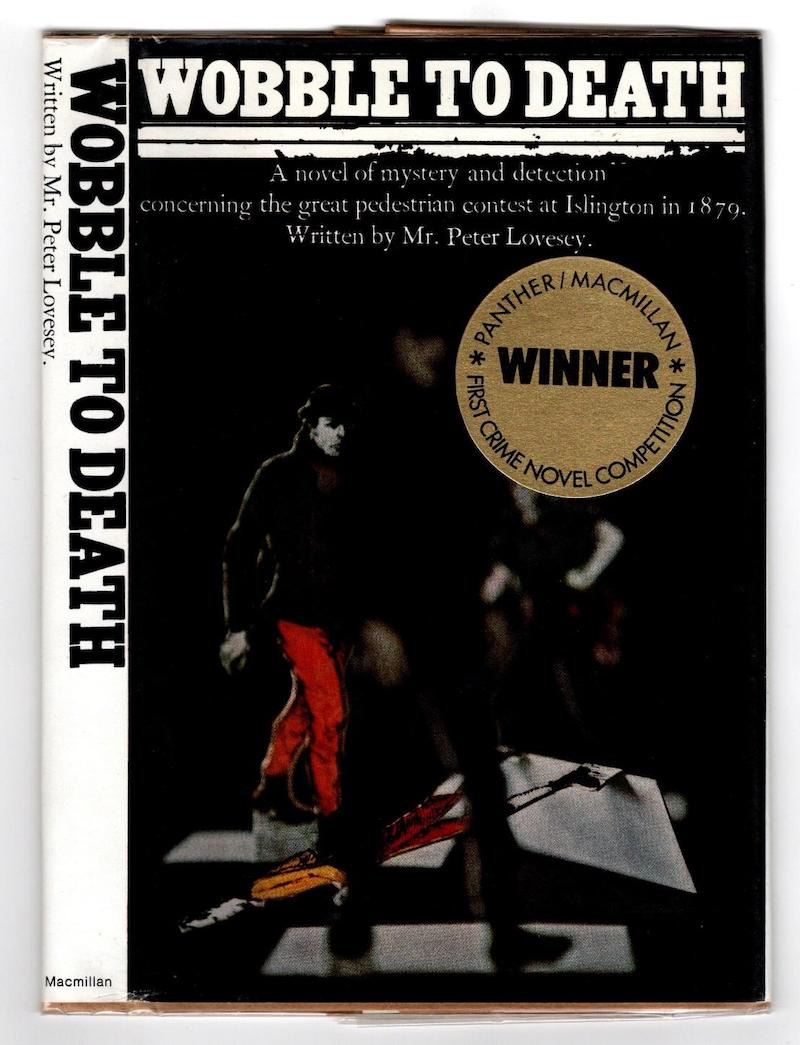 The book made quite an impact, with rave reviews from some of the greats of crime writing; John Dickson Carr; Edmund Crispin; Dorothy B. Hughes; Anthony Berkeley; Julian Symons; and H R.F Keating. It was voted one of the top 100 crime novels of all time by the Crime Writers Association and again in a similar poll by the Mystery Writers of America. It was filmed for TV with an Alan Plater script. There was even a Wobble for Shelter charity run around Sloane Square, with Barbara Windsor in support.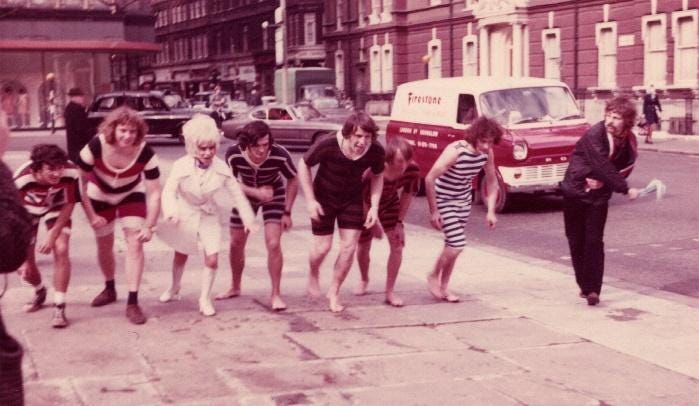 Here's a yellowing picture of me from about the same time. I look pensive, wondering, maybe, if I should get a haircut. With a strange sense of timing, my hair has got just as long during the lockdown.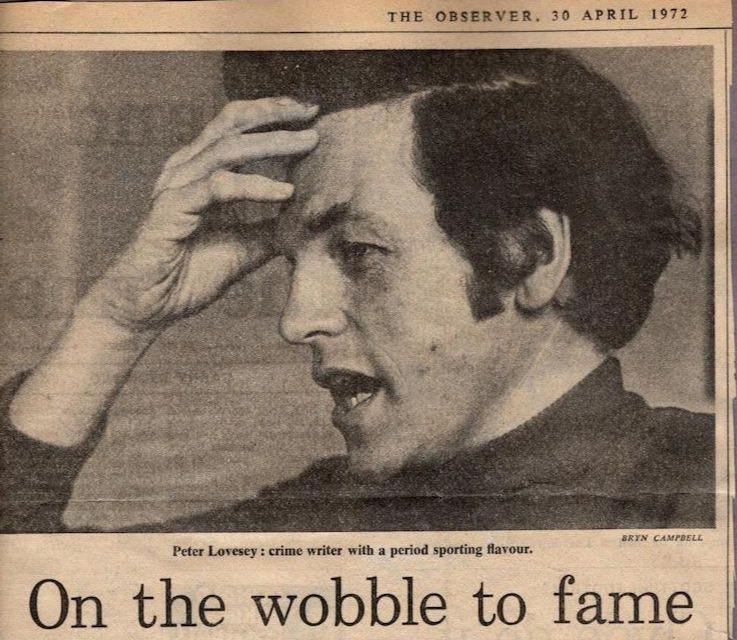 I'm sometimes asked where my ideas come from and that's always tricky to answer. The light bulb over my head? The little people? The ideas aisle in Sainsbury's?
For once I can give a clear and honest answer. Wobble to Death was about a Victorian long-distance race. For The Finisher, I decided to celebrate my half-century in crime writing with a twenty-first century take on running. The variety of people of all ages and abilities who flog their bodies along the roads is amazing. I had no difficulty in assembling a cast of suspects and potential victims. I explain my intentions at more length in an afterword to The Finisher called Running into Writing. But of course the book isn't just for sports buffs. The unathletic detective, Peter Diamond, makes sure of that. The story explores much more, including people-trafficking, rough sleeping and the perils of the underground stone quarries at Combe Down.
I've written exclusive articles about The Finisher for various online websites Keen readers might like to visit them at www.mysterypeople.co.uk; www.shotsmag.co.uk; www.crimetime.co.uk; www.promotingcrime.blogspot.com/2020/06. And soon to appear at www.mysteryreadersinternational.com; and the Case Files feature at www.thecra.co.uk.
Finally I'm pleased to add that Wobble to Death has remained in print all these years and is being honoured by my US publisher, Soho Press with the Peter Lovesey First Crime Novel Contest, with a prize for the winner of publication and a $10,000 advance. Well over 200 novels had been submitted by the deadline and the winner is to be announced on 1 December.
And I'm particularly happy that on 6 October, Soho Press will be publishing a signed, de luxe collectors' edition of Wobble to Death, with a foreword by the bestselling author Jeffery Deaver.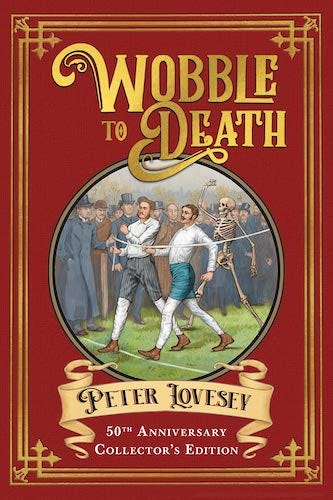 All in all, I'm one of the few people around who can selfishly say this has been a year in which good things happened. That's all, folks. Take care and enjoy your reading!

Peter